You can look good and have a healthy smile. Most people who are unhappy with the appearance of their teeth do not realize the numerous ways cosmetic dentistry can heal a smile. Cosmetic dentistry can correct crooked teeth, spaces between your teeth, stained or discolored teeth, chipped teeth, broken or missing teeth and having a "gummy" smile. Your team at Bloomington Modern Dentistry creates a customized treatment plan for you, based on your age, goals and where you are financial comfortable level.
Do you see a lot of your gum tissue when you smile? Many people with "gummy" smiles do not know that there are treatments available to cosmetically enhance the look of your gums. Our team of professionals can re-contour the appearance of your gum tissue. With the addition of beautiful porcelain veneers, your gummy smile disappears, revealing a bright, youthful smile that looks natural and proportioned. The entire process takes just a few visits and because of advancements in cosmetic techniques, your comfort is assured. Call your dentist and begin transforming your smile today!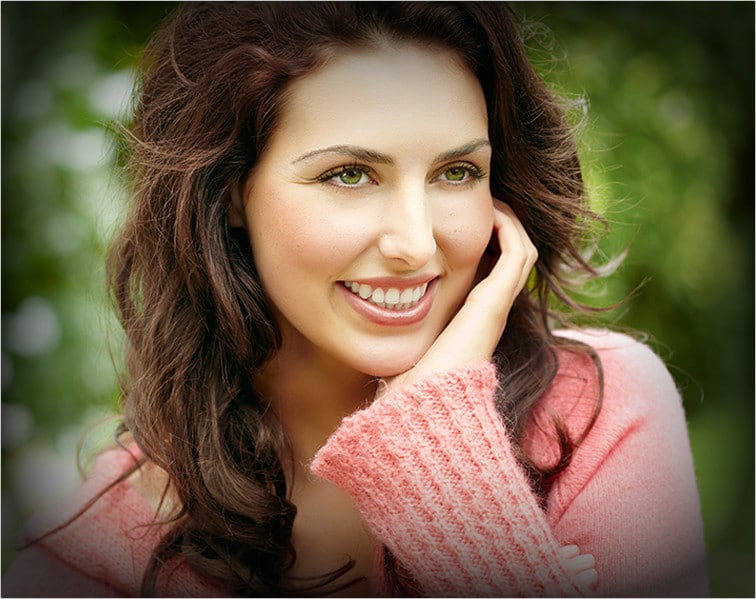 Porcelain Veneers
---
Imagine a whiter, more brilliant smile! Porcelain veneers are conservative cosmetic dentistry that makes a dramatic difference in the appearance of your teeth. If you have chipped teeth, crooked teeth, spaces between your teeth or dull or stained teeth, veneers may be the perfect solution for you. After minimal tooth preparation, your dentist will skillfully bond and shape thin films of porcelain to your teeth, creating a straight, brilliant smile that enhances your appearance and your self esteem. You are only a couple of appointments away from having the smile you have always wanted!
Porcelain Crowns
---
You can erase years of wear and tear with porcelain crowns. Sometimes called "caps," porcelain crowns are customized for you, covering broken, cracked or discolored teeth. Crowns are a durable, strong, long lasting method of enhancing both the look and functionality of your smile. After some preparation of the tooth or teeth that will receive the crown(s), your dentist will position a custom milled, lifelike porcelain crown over your damaged tooth, restoring and rejuvenating your oral health.
"Look mom, no cavities! Just had my first dental check up with my new dental team. They are awesome! Loved the chocolate chip cookie dough flavor. Yum! It's always a bit nerve wrecking going somewhere new but they made me feel very welcome & like I've been going there for a long time." -Julie
"I love this facility. The staff are amazing. Always friendly and helpful. Highly recommend to everyone." – Christine